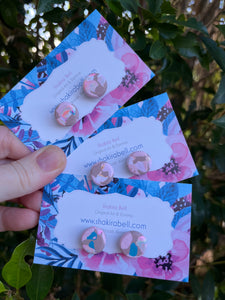 PolymerClay POP Rocks studs
Regular price $15.00 Sale
*****Light pink, beige, white and slight bits of blue.. 
Each pair are not matchy matchy but have very similar colours throughout.. 
Each pair are hand rolled and pressed by hand which gives them a very unique organic look to them and they remind me of little pebbles.. Some may have tiny little cracks and flecks just like a Little Rock would have.. This is why they are slightly different sizes also, just the nature of true handmade earrings.. ❤️❤️
The stud is stainless surgical steel and you will notice a blob of resin around the stud base, this protects your stud's longevity 😍😍and a surgical steel stud butterfly back.. 
they are sold in batches so you will receive a pair that is very similar to these pictured, truly unique and fun.. If you aren't a very big earring wearing lover than these are the perfect size for you as they are roughly 20mm (2cms) in diameter.. Super cute little statement studs.. 
Please note that certain monitors and screen devices may slightly alter the colours on your screen.
Please do not get them wet or submerge in water, you may however gently wipe them over with a very lightly damp cloth in case they become dirty. It's also recommended that you spray your perfumes before popping on your cute earrings.. 
Unfortunately due to hygiene reasons there is strictly no refunds for change of mind, but I'm always an email away if you have any questions at all, as I will do my very best to help wherever I can!! Thanks 🙏