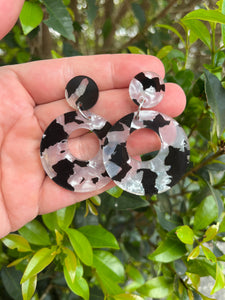 Pearly White and Black Dangles
Regular price $18.00 Sale
Make a very big statement in these acrylic dangles ..
The pearl white has a transparent look as you can see through it!! ❤️ 
Stud Top is approximately 1.5cm in length 
Bottom dangle is approximately 4cm in diameter 
length is approximately 7cms from top stud to bottom 
*width: approx. 2.5mm
*Surgical Steel stud earrings and backs and secured with a blob of resin to hold the stud on forever!! 
*lightweight
Image is just an example of a pair you will receive, due to the nature in which these are made colours, glitters or foils placement will be different, some may have gaps in which will be clear, unfortunately that's the nature of acrylic sheeting, but I assure you that you will love them!. Some may even show the stud coming through from behind. Tiny scratches are also possible given the nature in which these acrylic sheets are produced.. 
Shipping is a flat fee of $9 earrings are sent in smallish sized boxes, just helps with extra protection.
Items are shipped within 5-7 business working days,