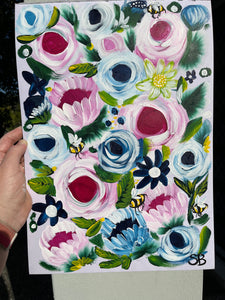 Original Art on Paper. Bee Bee Bumble Bee 🐝😜
Regular price $100.00 Sale
These prices won't stay around forever so if you are wanting some original artworks to dazzle your space then these are perfect for you.. Whether it's a colourful fun abstract piece or one of my favourite floral works!! I do sometimes love to do abstract landscapes aswell.. why is my price so low? It's because I know how tough times are right now so I want to offer something truly affordable!! ❤️❤️🥰🥰🥰❤️❤️❤️🥰🥰❤️❤️❤️ 
Original Art on A3 paper approximately 30/42cms
comes unframed.
Will suit any standard A3 frame (from Kmart or ikea or anywhere that sells the standard A3 frames) or you can have it professionally framed!! The images here with the frames are for display purposes only and you can add the frame colour with or without the matte around it, totally up to you!! ❤️❤️🥰🥰
painted with acrylic paints, sometimes pencil or pen markings!
comes signed on the front
Has a coat of UV varnish spray for extra protection!