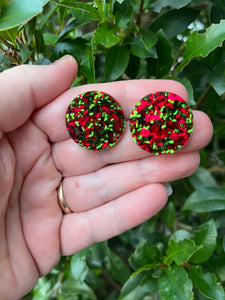 Christmas Statement Studs
Regular price $10.00 Sale
🎄🎄🎄🎄🎄🎄🎄.. Make a very big statement in these 25mm (2.5cm) laser cut acrylic circle studs,. 
How fabulous are these Christmas 🎄 foil Studs you could have upon your earlobe 😍, 
*size 25mm in diameter
*width thickness : approx. 2.5mm
*Surgical Steel Stud Disc back for extra support to hold these babies up.. 😍😍😍 The stud also has a little blob of resin surrounding the base to hold the stud in place for a long long time to come!! Just using glue isn't good enough.. In my years of experience of making earrings this is the best way to ensure longevity over time!! 
*lightweight
Image is just an example of a pair you will receive, due to the nature in which these are made colours, glitters or foils placement will be different, some may have gaps in which will be clear, unfortunately that's the nature of acrylic sheeting, but I assure you that you will love them!. Some may even show the stud coming through from behind.
Shipping is a flat fee of $8.95 earrings are sent in smallish sized boxes, just helps with extra protection.
Items are shipped within 5-7 business working days,