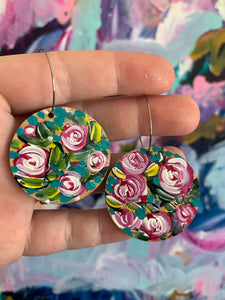 Bamboo Roses
Regular price $30.00 Sale
These gorgeous handpainted Roses are just the cutest and most lightweight earrings you will wear.. 
These are handpainted so each piece may be slightly different but still very much a gorgeous pair of earrings. 🌸🌸 
so they are approximately 50mm in diameter at the widest point across, they have a gorgeous painted floral top with a surgical steel hoop 25mm.. 
Please ensure that you don't get your gorgeous earrings wet or shower in them, store away from direct sunlight to prevent any fading. Please be mindful of how you store your beautiful earrings as we wouldn't want them to get scratched from sharp objects..